Increase Reviews with Memo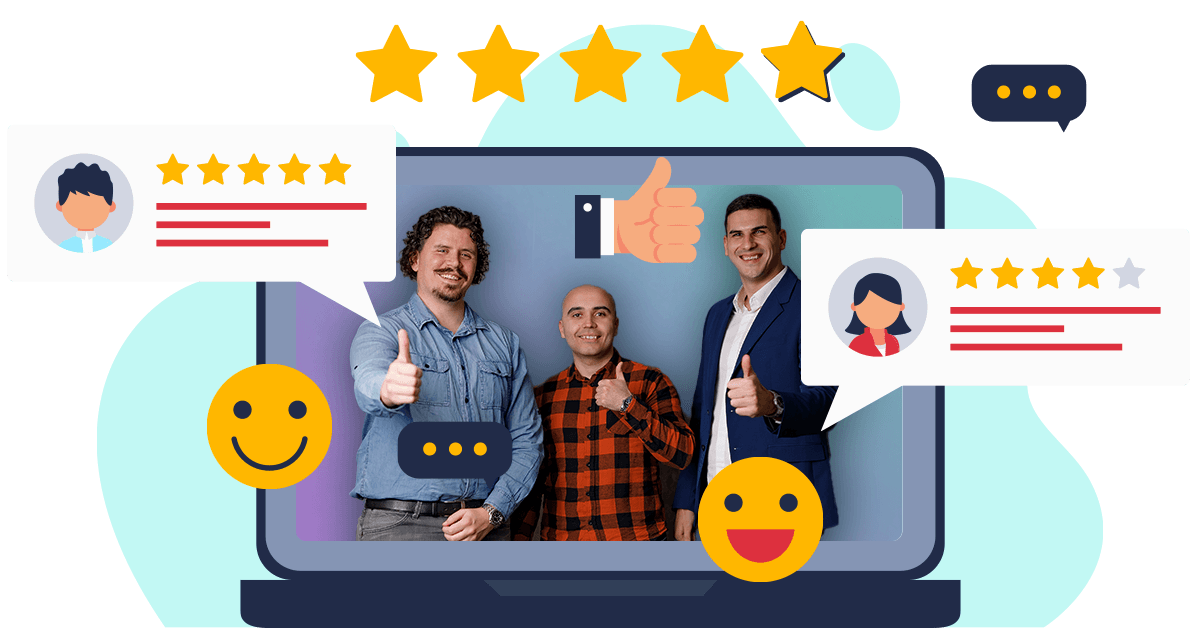 In our fast-changing world, reputation is everything. How do you get a good reputation? Well, everything starts with an excellent moving service. A flawless moving service sets the stage for a smooth transition. After that, timing is everything. Timing can make or break the entire process, so it's essential to get it just right. Memo places great emphasis on the power of reviews!
Star Rating Calculator
Calculate how many 5-star Google reviews your business needs in order to improve star rating/rank.
Calculate how many 5-star Yelp reviews your business needs in order to improve star rating/rank.
Keep in mind that Yelp rounds ratings to half steps.
Your result:
5-star reviews needed to achieve star rating of:
Are you ready to dive into world of marketing with our experts?
Schedule a demo and get ready to grow your business
Your request was sent!
One of our agents will reach out as soon as possible regarding your request.
When should you ask for a review of the moving service?
In the moving industry, reputation building is vital in establishing trust and credibility for companies. It's perfectly okay to ask your customers for reviews, especially if you've provided them with top-notch moving service. After the move, politely request that your customers share their experience by leaving a review. This will help you gather valuable insights and establish a positive online presence. You can contact them via email, text, or in person. However, you should be aware that it's ultimately their choice whether or not to share their thoughts.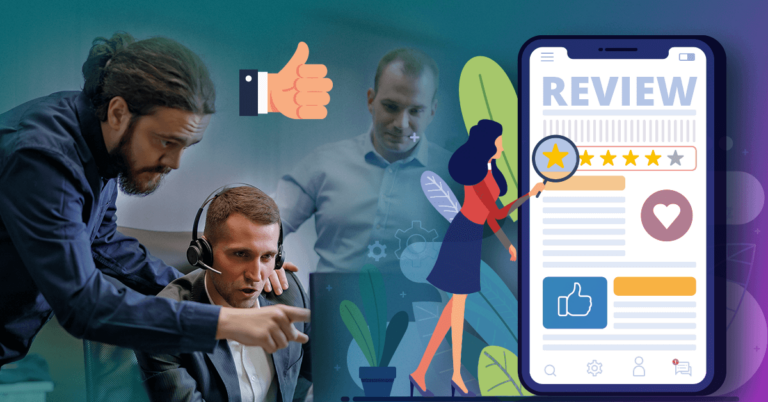 Ask for feedback after the finished move
Based on our experience, we discovered that the best time to request a review is after a customer has had a positive experience with a moving crew. This is a time when their satisfaction is at its peak, which increases the likelihood of them leaving a positive review for the hardworking movers who carefully handled their possessions. Capitalizing on these important moments will increase the chances of receiving positive reviews showcasing your excellent service.
Automated text and email with review link
Our system simplifies review requests through customized emails and text messages. Once a move is complete, our system sends out a review request via email and SMS that includes links to multiple review platforms, making it easy for the customer to choose where to leave their feedback. This process ensures that our customers receive a steady stream of reviews, which helps to build their online reputation and attract new customers.

Collecting reviews doesn't end here. Suppose you have not received a review from the customer within a month of completing the move, and the relocation was completed without complaints. At this point, it's fine to send them a friendly reminder.
Why you shouldn't use fake reviews
We strongly advise against using fake reviews. It's important to note that there are better ways to go than turning to fake reviews. Authenticity is key to building trust with your customers. That's why you should focus on genuine feedback that will finally contribute to your company's expansion and further success.

Using fake reviews also carries the risk of being banned from multiple platforms, which you want to avoid. All your efforts in your business can be undermined with a single fake review. Using fake reviews can have a counterproductive effect, which should be avoided at all costs. You should always strive to maintain a fair and ethical online presence. Prioritizing genuine customer feedback can be a real game changer and add to your company's credibility and trustworthiness.
It's essential to respond to every review, whether it's positive or negative. This will demonstrate your commitment to all your customers. At the same time, you will show them that you appreciate their feedback.

Based on our experience, many customers will likely leave reviews for a company that is dedicated to responding to their feedback. This proactive approach nurtures better customer engagement and improves online presence.

You will enhance your reputation and build stronger trust with your potential customers. At the same time, you will demonstrate a commitment to customer satisfaction, ultimately leading to a more positive and influential web presence.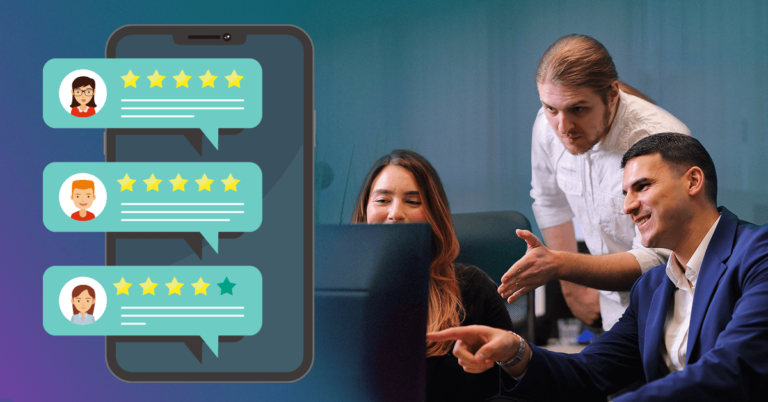 What to do with negative reviews?
Regarding negative reviews, you should maintain a professional and polite tone and address any concerns the customer has raised. With professionalism, the right experience, and a little luck, you can turn a negative experience into a positive one. It's important to show your customers that you are willing to go the extra mile to ensure their satisfaction.

When customers engage with a business, they often consider reviews, including negative ones. For example, a complaint about attention to detail during the estimate process is not necessarily bad. It showcases your commitment, effort, and attention to every detail.

Adopting a proactive approach and effectively addressing even negative reviews is good. Treat all your customers with respect and courtesy. This will show that you understand their problems and concerns. You can also provide them with a specific solution or compensation that will satisfy them in the long run.

Ultimately, you can analyze negative reviews and learn from the experience. There is always space for improvement, which means more satisfied customers and more reviews, so pay close attention to customer feedback, even when it's negative.
Having proficiency in a single platform is not enough
In addition to timing, getting reviews on different platforms is important. Why? Simply put, potential customers often research businesses online on their favorite platforms before using their services.

When searching for moving companies, customers explore various prominent websites, including Google, Yelp, and BBB, as well as industry-specific platforms like MyMovingReviews, and Home Advisor.

It's important to cover all these platforms to ensure your business reaches a wider audience and gains the trust of potential customers. Maintaining a strong presence on these platforms can enhance your credibility and make it easier for customers to choose your services.

If you notice that some review platform has a company rating that you don't deserve, don't neglect it! Stream your satisfied customers to that platform and make it work! Your company may think an online platform is trivial for your business. However, customers will likely do detailed research, and those platforms with bad reviews will draw their attention. Once again, this will help you with your online presence and display your commitment to customers.
What is the best review site in the moving industry?
There is no doubt that customer reviews are an integral aspect. Reviews provide helpful and incredibly valuable insights into a company's reputation, reliability, and customer service. 
With so many review sites, it can be difficult to distinguish which one is the best for the moving industry.

According to our research and experience with Google, Yelp, and Better Business Bureau, these three review sites have emerged as the most popular and reliable sources for assessing moving companies.
Google should be your top priority
Google reviews are a powerful tool for anyone looking to hire a moving company. Today's generation is all about reviews. They provide valuable insights into the company's reputation and services, giving potential customers the confidence they need to make a decision.

If you own a moving company, reputation marketing is one of your main goals. You're likely interested in achieving a better position on Google. Everyone wants their company showcased in the top 5 results on Google's first page.

Of course, this complex process requires effective SEO optimization for your website, and it's also connected to the number of reviews. Google is designed to have the easiest interface for leaving feedback and rating businesses.

That's why our recommendation is to prioritize Google. A higher number of positive reviews encourages customer trust and signals to Google that your company is reliable, trustworthy, and provides quality service. This is social proof to customers that your business is reputable and that you care about your clients.

Furthermore, Google uses incredibly advanced algorithms for ranking search results, and reviews are among the many factors influencing your position.

Google's user-friendly interface makes it simple for customers to leave reviews, and that's another reason why we recommend making Google a priority. By following these helpful tips and applying the provided information, you can improve your position on Google, attract more customers, and ultimately receive more reviews. Therefore, building a strong online presence and gathering positive reviews can enhance your position on Google.
Follow the guidelines, maintain discipline, and get the results
With its easy-to-navigate interface and comprehensive reviews, Yelp has become a go-to resource for many customers. According to recent statistics, Yelp has more than 178 million unique visitors each month, with most of its users residing in the United States.

Statistics show that Yelp is one of the country's most popular platforms for online reviews, with over 30 million verified reviews and counting. While Yelp caters to a wide range of demographics, it is most popular among millennials, with 34% of its users falling between 18 and 34 years old.

Additionally, Yelp is increasingly being used on mobile devices, with 64% of its searches originating from smartphones and tablets.

Yelp is a unique platform with complex algorithms, making navigating it a bit challenging. Therefore, our first advice would be to follow their rules and policies. Doing so will attract Yelp's growing customer base, eventually leading to increased reviews for your business. Wonder how to do that? Just keep on reading.

First and foremost, it's best to find customers who already have an active Yelp account. Research has shown that such customers are likely to leave feedback and reviews on this popular platform, saving you the trouble of directly asking them for feedback (which Yelp generally doesn't approve of). Our top tip is prioritizing these customers and striving to provide them with an excellent moving experience. Now, you're probably thinking, how can you effectively identify and connect with them?

With a little research and the right dedication, you can search if they have a Yelp account. However, if you notice that a customer doesn't have a Yelp account, our advice is to refrain from suggesting and encouraging them to create one. This approach should prevent triggering Yelps red flags, but still be careful. Yelp uses algorithms and moderators to carefully analyze and evaluate reviews in order to identify any irregularities or manipulation. These are the things you shouldn't do on Yelp:


Do not request reviews for your business from customers, subscribers, family, or friends

Your team members shouldn't engage in a competitive pursuit of reviews

Refrain from seeking reviews right after customers' feedback through other means, such as surveys or contact forms

Avoid providing discounts, freebies, or any form of compensation in exchange for reviews; this can potentially violate legal regulations
It's important to note that Yelp has clear guidelines regarding requesting reviews. This applies to all businesses, including the moving companies.

Also, red flags can happen if multiple reviews originate from the same user account or if there are concerns about the authenticity of user profiles. This means that Yelp discourages actively seeking or even encouraging customers to leave reviews, whether positive or negative. Yelp is specifically designed to prioritize reviews from people who voluntarily share their genuine experiences.

Yelp reviews should be genuine and a result of the customer's experience before, during, and after the move. Having that in mind, when asking for customer feedback, do not ask, "Please rate us on Yelp." It's far better to say, "We're always striving to improve. Do you have any suggestions on how we can enhance our service?"

For a higher number of reviews, please follow these policies and guidelines. Otherwise, your reviews may be placed in the 'not recommended' section. In the worst-case scenario, your account can be banned as well.
Always resolve complaints with Better Business Bureau
Moving companies with a high BBB rating are often seen as more trustworthy and reliable, making them a popular choice for people looking for professional moving help. Research has shown that older consumers trust this platform more and use it regularly, while Yelp and Google keep attracting young audiences. Even though you are probably familiar with the rules of this platform, resolving complaints will help increase your reviews significantly.
You can rely on all of them!
Combining these three sites can help customers make informed decisions and choose a reputable moving company that meets their needs.

Getting feedback is important for any business, especially regarding customer reviews. Reviews help you understand what you're doing well and where to improve. By paying attention to reviews, you can change your business and provide a better customer experience. So, pay attention to reviews – they can be really valuable!

Enforcing online reputation management techniques is crucial for any moving company looking to improve customer reviews and attract even more business.
Motivate your employees and reward them
Every employee in the moving company needs to have a common goal. One of those goals is increasing the online rating. You can do this in several ways. Introducing financial bonuses for movers and moving coordinators based on 5-star reviews can be a great additional push and increase the productivity of employees.

The financial bonus motivates agents and movers, driving them to seek 5-star reviews with every interaction and assignment. As these reviews directly impact their earnings, they are dedicated to delivering outstanding service and securing customer satisfaction.
Direct customers to user-friendly online platforms
When guiding customers to provide feedback, it's important to direct them to platforms that offer the highest convenience for leaving reviews. When creating an environment that encourages a smooth and uninterrupted feedback process, it's important to streamline the sign-up procedure, minimize excessive questioning, and prioritize protecting customers' privacy.

Directing customers to user-friendly online platforms will be beneficial on several levels. It will simplify the process of leaving feedback, likely increasing the number of reviews you get. You will also empower customers to share their thoughts and opinions.
Print 'We appreciate your feedback' cards
Once completing the move and presenting the bill of lading, you should seize an opportunity also to provide Feedback Cards. These cards are a thoughtful gesture, and they encourage the moving crew to politely ask for feedback through a user-friendly form, including a printed QR code containing a review link. By scanning the QR code, customers can effortlessly access the review page with just one click.
Increase your views - take your online presence to a higher level
In today's rapidly evolving digital world, businesses must strategically navigate through various online platforms to effectively promote their brand and engage with customers. After all, customers are the most important for every successful business, and they should always be a top priority, no matter what.

By embracing and applying these strategies, you will gain insightful tips to cultivate your long-term reputation effectively.

Take advantage of our review calculator at the top of our blog! It helps you count the number of 5-star reviews necessary to reach your desired rating on platforms like Google and Yelp.

With dedication and consistent effort, your moving company can establish a strong online reputation and thrive in the digital world. We hope this blog has been helpful and provided valuable tips for your business. Memo is always here for you, so don't hesitate to contact us for more useful advice, and of course, don't forget to try out our review calculator!
Get in touch with us today and learn more about what we can do for your business!
Make sure to share this blog post