Is just what makes your business even better
Value-based emails and their effect on booking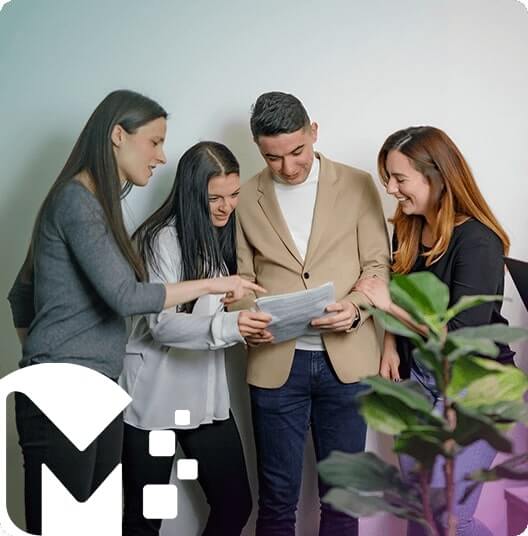 As with any company out there that is selling a product or offering a service, it is very important to show the value of what is being offered to the customer. Sometimes there are too many benefits to a product/service to fit in a short 5 minutes phone conversation, so other ways must be implemented. This is where in the modern age, emails come in handy. Wonder how? Keep reading.
Do value-based emails have an effect on booking?
These emails should not be too long but just enough to present all the main points. They mainly focus on the benefits of the product or service from the customers' perspective or offer a solution to a problem, and rightfully so, since those are the things that will build value in the customers' eyes and instill trust in them. 
In addition, building value is what may ultimately influence customers' decisions. Usually, the emails have a clear subject that summarizes the main points discussed in the body of the email (so no click bait titles here). Furthermore, they focus on one topic and give advice or suggestions on solving a particular issue. The ultimate goal is, of course, to increase sales. This case study aims to establish whether and in what ways sending emails that provide value to customers has an effect on closing sales.
The sample used in this research consists of 1288 leads from a period of 2 months – August and September of 2022. In addition, the move date had to be at least 2 weeks from the date these leads were acquired. 
This second standard was defined in such a way as to have 6 different emails sent to the customers' emails in reasonable increments just in time before the actual move date. 
All of these emails are supposed to build value for the service and provide tips and tricks on how to go about the whole process of moving, from start to finish. Therefore, some of the emails also correspond to or follow the stages of moving. The emails were sent 2 days apart until all 6 emails were sent.
They are as follows:
Packing Tips – this email helps customers start their moving process by suggesting how to pack different items and what packing materials work best for each type of item.
Moving Tips – give sound advice about ways to declutter one's space and reduce packing for the move by donating things that are no longer in use or throwing out expired goods.
Moving With Your Kids – this is an email for parents moving with small children and provides tips on how to make this huge change in their children's lives a positive and joyous experience.
Moving With a Dog – as the name suggests, in this email, customers will read about ways to help their dog adjust to the move as well as their new home.
Moving Day – suggests how to approach the moving process as it unfolds, what essentials to have at hand, and where to get started once the movers deliver belongings to the new home.
Day After Move – an email that makes recommendations on how to unpack and advises on what to do with the packing material once everything is done.
Case study sample and criteria, email topics
Out of the 1288 leads that meet the criteria above, 169 were booked. Most of these leads were sent the email set (114 leads or 67.46%), while a smaller number had not (55 or 32.54%). 
The 32.54% were closed before there was a chance to send the emails, some of which were first-call bookings or the customers booked online shortly after getting off the phone with a sales representative.
In addition, there was a percentage of  20.12% (34 leads) out of the 169 leads that had been sent the emails but had either booked without ever opening the emails (12 leads or 7.10%) or before viewing them (22 leads or 13.02%). Whether the reason for booking was a good sales pitch, excellent reviews online paired with great rates/prices, or even availability, it is not certain. 
On the other hand, 47.34% (80 leads) of the 169 total leads booked received the email set and closed the job after having opened and read the emails. This makes up a little less than half of the total number of closed jobs. 
However, this is still a pretty significant number if we take into account that the total number of leads who have read the set was 102. Out of all the leads that have read the emails, 78.43% were booked as a direct result of having read the emails, while the rest have gone through the emails once the job was booked.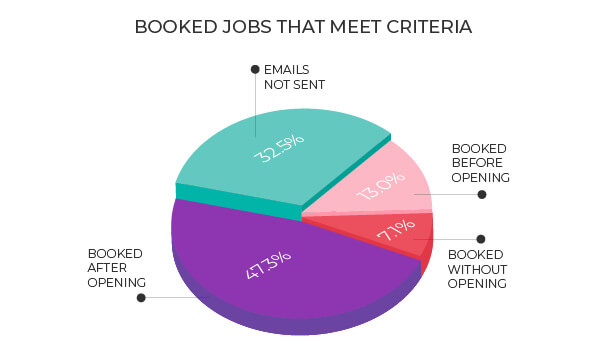 In summary, the breakdown of the 169 booked leads by different categories with respect to whether the email set has been sent and/or read is as follows:
55 (32.5%) leads have not been sent the set since booking occurred before the emails could be sent
12 (7.1%) leads closed the job without ever having read the emails, although they have been sent
22 (13.0%) leads have opened and read the emails only after the sale has already been closed
80 (47.3%) leads have booked the job after having read the email set
It's important to note that the total number of leads that were acquired within this time period was much higher. Nonetheless, they did not meet the second bar, but the move date was within a shorter time span, less than 2 weeks from the date the customers called to get a quote. 
Usually, these are smaller moves that don't need extensive planning in advance. That is not to say that email providing value would not have had an effect on the booking rate. However, a separate case study must be conducted in order to come to a concise conclusion.
Opening rates per email within the set
The opening rate of emails was quite similar across the board, with no email standing out too much. Customers took the most interest in What to do on Moving Day with an opening rate of 54.9%, then Moving with your kids was second at 52.4%, and Packing tips at 51.7%. 
Other emails had a slightly lower opening rate, although it was still pretty high. Moving tips had an opening rate of 46.5%, followed by the Day after the move at 43.6%, and a close last Moving with a dog at 43.3%.
| | |
| --- | --- |
| Topic | Opening rate |
| Packing Tips | 51.7% |
| Moving Tips | 46.5% |
| Moving With Your Kids | 52.4% |
| Moving With a Dog | 43.3% |
| Moving Day | 54.9% |
| Day After Move | 43.6% |
So, what do these results show us?
This case study confirms that reaching out to customers and sending value-building emails has an impact on closing rates. 
Even though not all customers decided to lock a move date, there is no denying that a high percentage of people who have received the emails and read them (78.43%) have chosen to call back and seal the deal. 
The email opening rates give us an insight into what customers give more importance to when it comes to moving. It also shows what problems they face more often than others while at the same time hinting at the topics that could possibly be looked into more in the future.