How to Get Your USDOT Number
Are you planning to start your own moving company? 

It is imperative to register as a motor carrier and procure the requisite licenses before commencing operations and facilitating relocations.

Throughout your preliminary research, you may have encountered terms such as "DOT," "FMCSA," and "DOT number."

We aim to be your guide and simplify the whole process for you. Keep reading, and you'll quickly grasp all the ins and outs of this process.
What are FMCSA, DOT, and USDOT numbers?
A motor carrier is any entity that uses vehicles for commercial purposes. A moving company, for example, moves people from point A to point B using trucks.

DOT

stands for Department of Transportation, which is a U.S. government department.


DOT regulates everything transportation-related within the U.S., meaning it works on the federal level.


The USDOT number

, or DOT number, is a unique number assigned to motor carriers by the Department of Transportation.

The Federal Motor Carrier Safety Administration (FMCSA) is a government agency directly involved with motor carriers, including moving companies. Its primary mission is to prevent accidents and injuries related to commercial motor vehicles by implementing and enforcing safety regulations.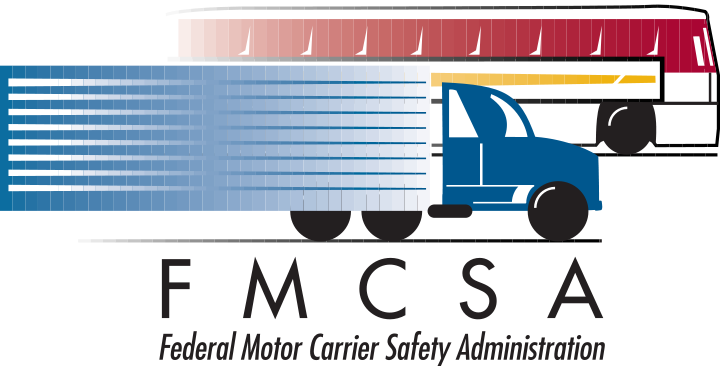 How do I get my DOT Number?
Obtaining your DOT Number involves several steps, the first of which is establishing your company if you still need to. Most small businesses opt for a limited liability company (LLC) structure. This usually means filing the LLC paperwork in the state where your business operates and where you reside.

For instance, if your business operates in Maryland, you'll prepare articles of organization and file them with the Maryland Department of Assessments and Taxation.

Once your LLC paperwork is filed, it won't be long until your company becomes active. If you need guidance with the LLC filing process, please contact us for assistance.

With your business set up within your state, the next step is obtaining your DOT Number. This involves visiting the FMCSA website and navigating to the Unified Registration System (URS). Upon clicking the link, you'll be prompted to select whether you're a New Applicant or a Returning Applicant.

As a new applicant, you'll click on the "NEW APPLICANT" field. On the right-hand side, you'll notice a taskbar offering various options, such as "next," "previous," "save," etc.

Once you start filling in the necessary fields and entering your information, you'll utilize this taskbar to navigate the registration process. Once you've selected the "NEW APPLICANT" field, proceed by clicking the "NEXT" button on the right. This will guide you further through the registration steps.
URS Online Application Process Introduction
The Introduction screen states what is required to apply successfully. You must have insurance and a legal process agent on file before the FMCSA grants you the authority. These two things must be submitted within 90 days of the application's filing date.

Read the text and click "NEXT".

You'll find a detailed guide on how to navigate the URS Online Application efficiently.

Once you've perused the text, you'll understand how the online application functions.

Following this, you'll simply click the "NEXT" button once you've read each page or input the necessary information
You will need two things to complete the application:
Employer Identification Number or EIN. You acquire this when you open your company.

Company Officers with Titles. Information about you, the owner, and your officers, for example.
Financial Responsibility
Currently, moving companies are not required to file financial responsibility.
Legal Process Agent
Finding a Legal Process Agent and filling out the BOC-3 is a simple process; you can find out more here.
Active vs. Inactive DOT Number
Here is the explanation of the active USDOT number notice. Once you are notified that you have an active USDOT number, you can start your operations.
Certifications and Oaths Signature Notice
Only you, or agents and officers authorized by you, can sign the application.
Information Collection Notice
The collection of your information required in this application is authorized under specific provisions. This means the information you are asked to provide is mandatory and confidential.
You will be asked to create an account to access the application. By creating an account, you will always be able to return to complete your application if you cannot in a single sitting. You will see your Applicant ID assigned to you in the first field.
Now is the time to create a password and select security questions and answers.

The person acting on behalf of the Applicant in the application should be authorized and possess the required information to answer the questions. This can be you or your officer/agent.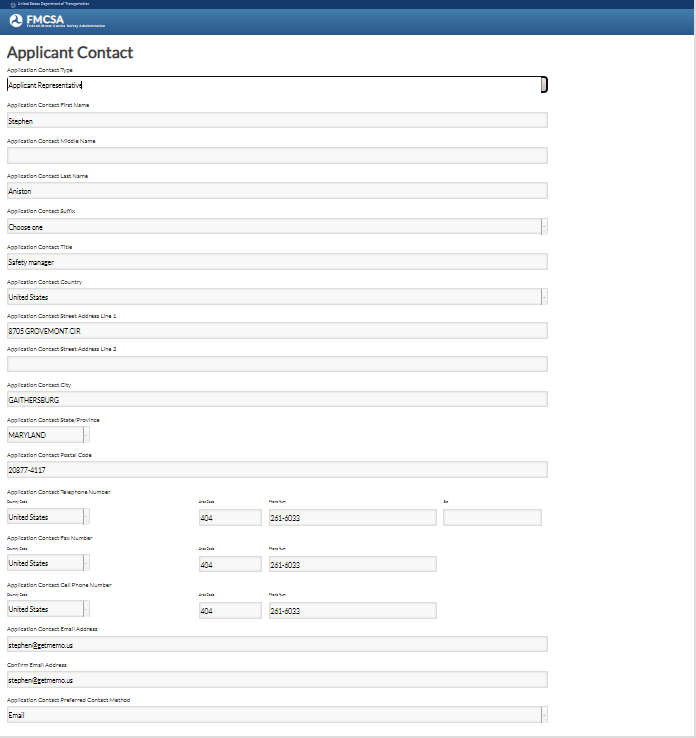 On the Applicant Contact page, you must enter personal information such as your first and last name, title, country, address, etc. You will also need to provide an email, so it would be great to have a company email address.

As for the contact method, you can either choose US Mail or email. It is up to you entirely.
After you enter all contact information, you can proceed to the next page.
DISCLAIMER: The rest of the application must be completed to obtain a DOT for a moving company/motor carrier of household goods.

You will provide your business details as a required step to get your DOT Number.
Dun and Bradstreet Number, or D-U-N-S Number, in short. If you have it, click on "YES"; if you do not have it, you can choose "NO" and proceed to the next step.

After you enter your Legal Business Name, the next step will ask you for your DBA name ("Doing Business As" name). If you are not working under any DBA name, simply leave the field blank and proceed to the next step.

If your Principal Place of Business Address is the same as the Contact Address, click "YES." If it differs, you must also add that address by clicking on "NO" and proceeding to the next page.

4. Principal Place of Business Address
Enter your business and mailing addresses. If your mailing address is the same as your business address, click on the "Same as Principal Place of Business" button.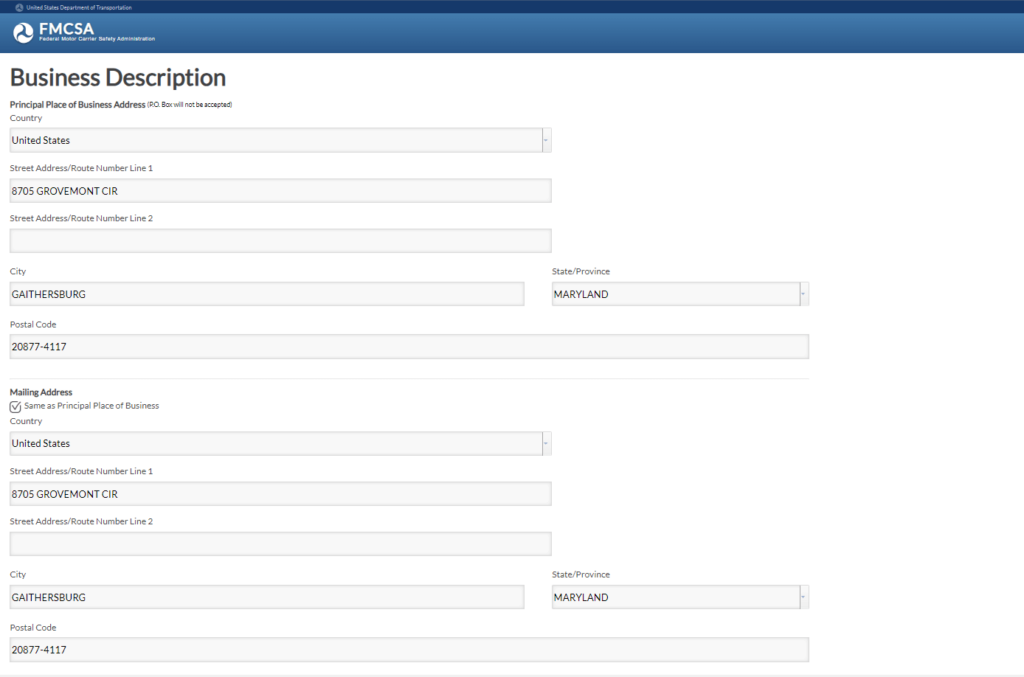 Here, provide your business contact information.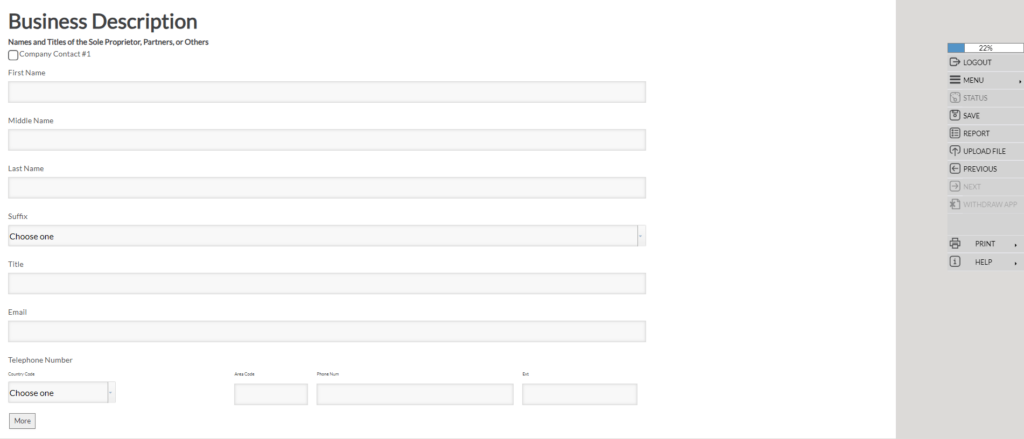 6. Employer Identification Number (EIN)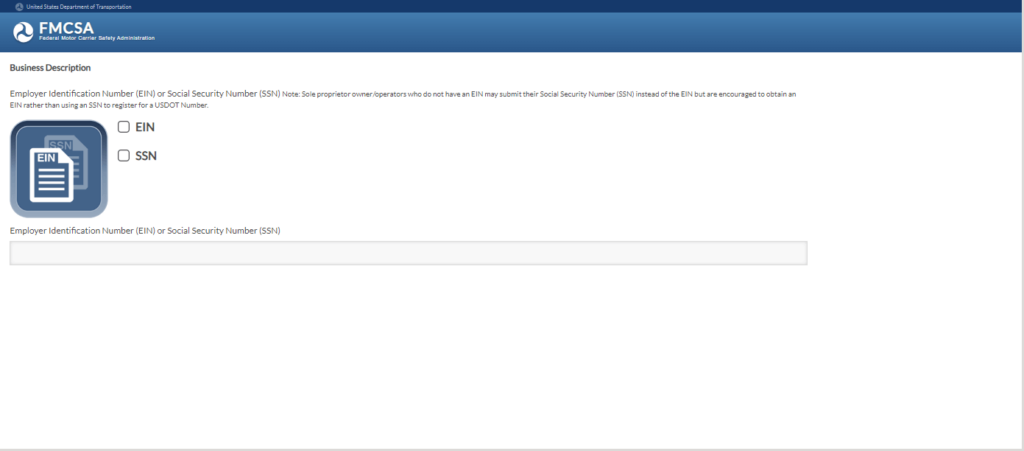 In this section, you must provide your Employer Identification Number (EIN) or Social Security Number (SSN). You obtained an EIN when you established your business.

You can select which number to enter by clicking "EIN" or "SSN" and then entering the respective number.
Assuming that you are not a department of an agency of the federal government, you can click on "NO."

Here, you can select your type of business. If you, like most start-up businesses, are an LLC, click on LLC and select the state where your business is registered. If your business is not an LLC, choose the one that best applies to your business.

Choose the option that applies to you/the owner of your business.

Here, you are required to add one or more contacts, their names, and titles.
If you own your business, enter your information and select "Company Contact #1" in the top left corner. Then, if you want to add more contacts, click "More" at the bottom of the page.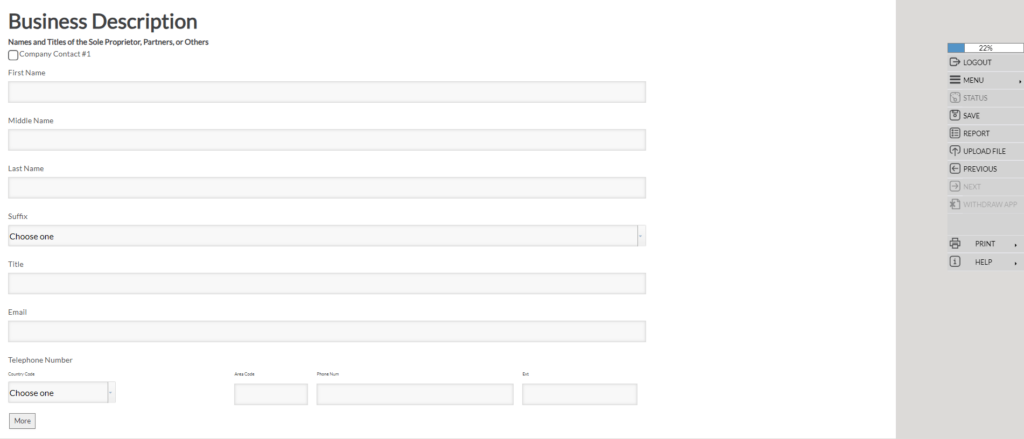 11. Company Contact Address
Add the address of the primary contact for your business.

12. Business Description Summary
Check if the data entered is correct, then proceed to the next step.
In this part of the application, you will provide details regarding your planned operation, in this case, a moving company or, as FMCSA calls it, "Motor Carrier of Household Goods."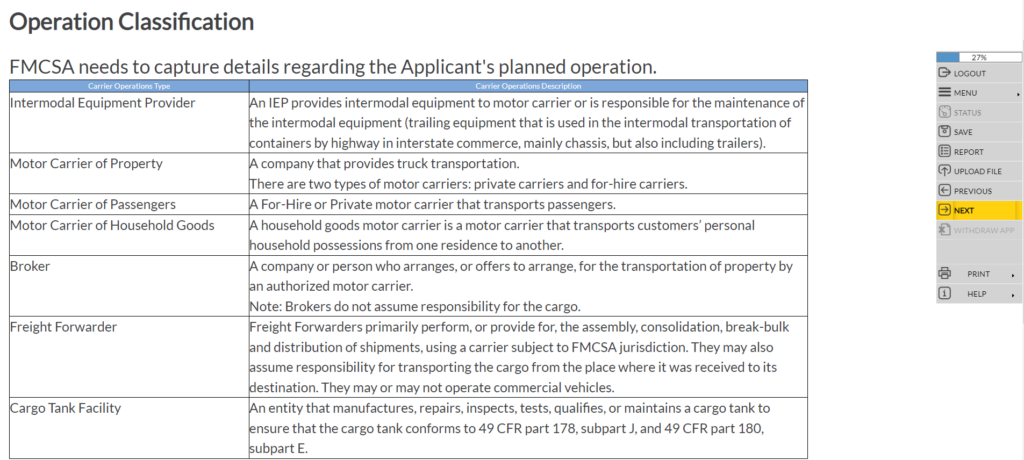 DISCLAIMER: The rest of the application will be done to get a DOT for a Moving Company/Motor Carrier of Household Goods.
01. Intermodal Equipment Provider (IEP)
The answer is "NO" since you will not be trailing equipment that transports containers.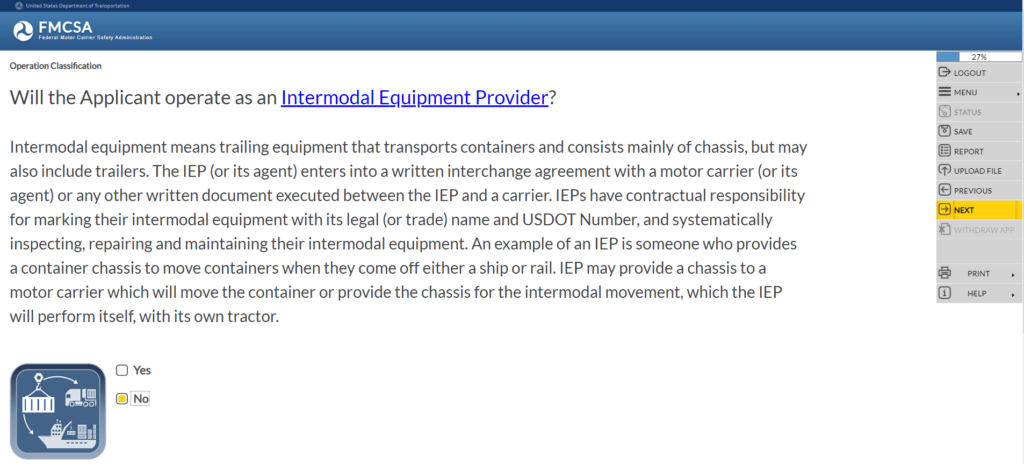 02. Transportation of Property
General freight, hazardous materials, and household goods fall under "property," so the answer here will be "YES."

03. Compensation for Transportation of the Property
Since you are entering this business, whether with or without previous experience, you are doing so to increase your income and make a living. The answer here is "YES".

04. What type of Property will you Transport?
Moving companies transport "Household Goods" only.

05. Will you operate in Interstate or Intrastate Commerce?
This section is filled according to your planned area of operations. If you relocate people within one state, you must register as an Intrastate Motor Carrier. On the other hand, if you want to cross state lines and operate in more than one state, you need to register as an Interstate Motor Carrier.

06. Will you be moving your property?
In most scenarios, moving companies do not transport their own property, so here, you would choose "NO."

07. Will you transport any passengers?
The obvious answer here is "NO". Moving Companies transport Household Goods, not people.

Moving companies that own their trucks and have their own drivers, equipment, etc., are not Brokers. Brokers are companies that arrange interstate cargo transportation while using for-hire motor carriers. Assuming you want to open your own moving company, this does not apply to you.

09. Freight Forwarder Services
A "Freight Forwarder" is not a motor carrier who hauls freight for compensation, so you should choose "NO" here.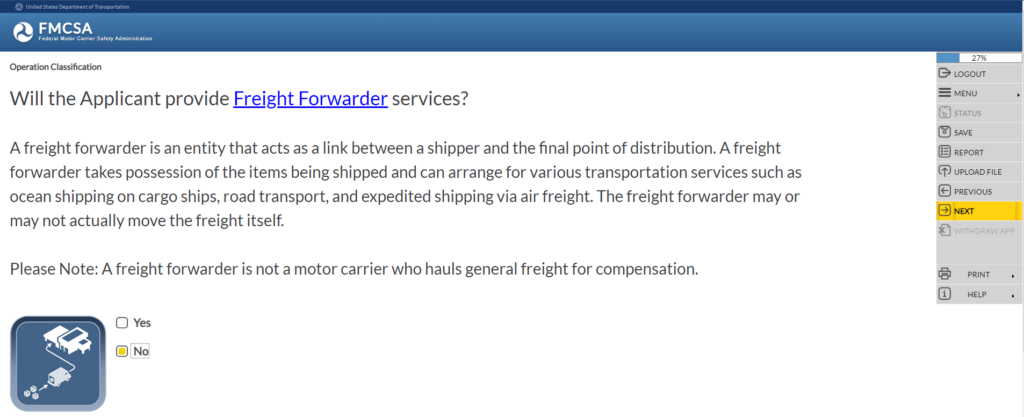 Moving companies typically use straight box trucks. You will probably not operate a cargo tank, so the answer is "NO."

11. Driveaway & Towaway Services
As a mover, you will not be providing Driveaway and Towaway services. Choose "NO" here.


12. Operation Classification
In this step, you are presented with all of the classifications of cargo that are possible to transport.

You should choose only "Household Goods" and continue to the next step, the Operation Classification Summary.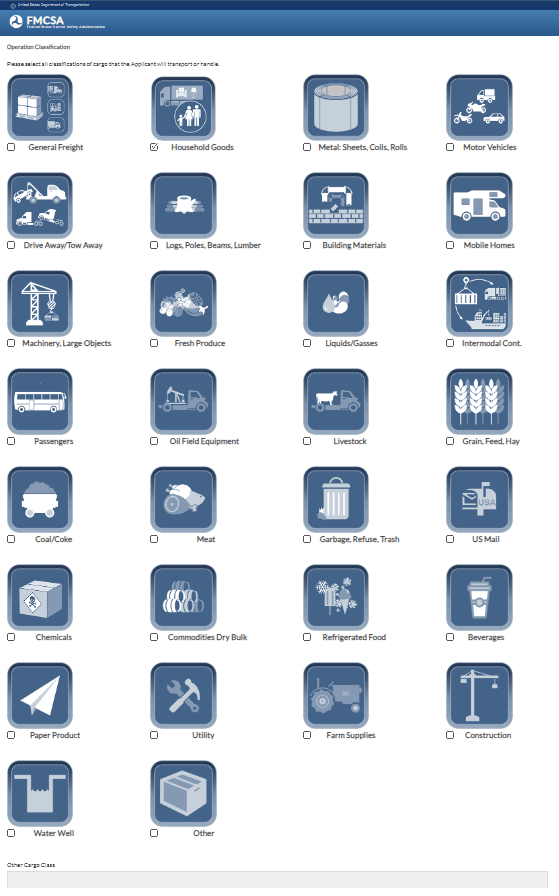 13. Operation Classification Summary
Take a moment and go through your answers; if everything is correct, you may proceed to the next step.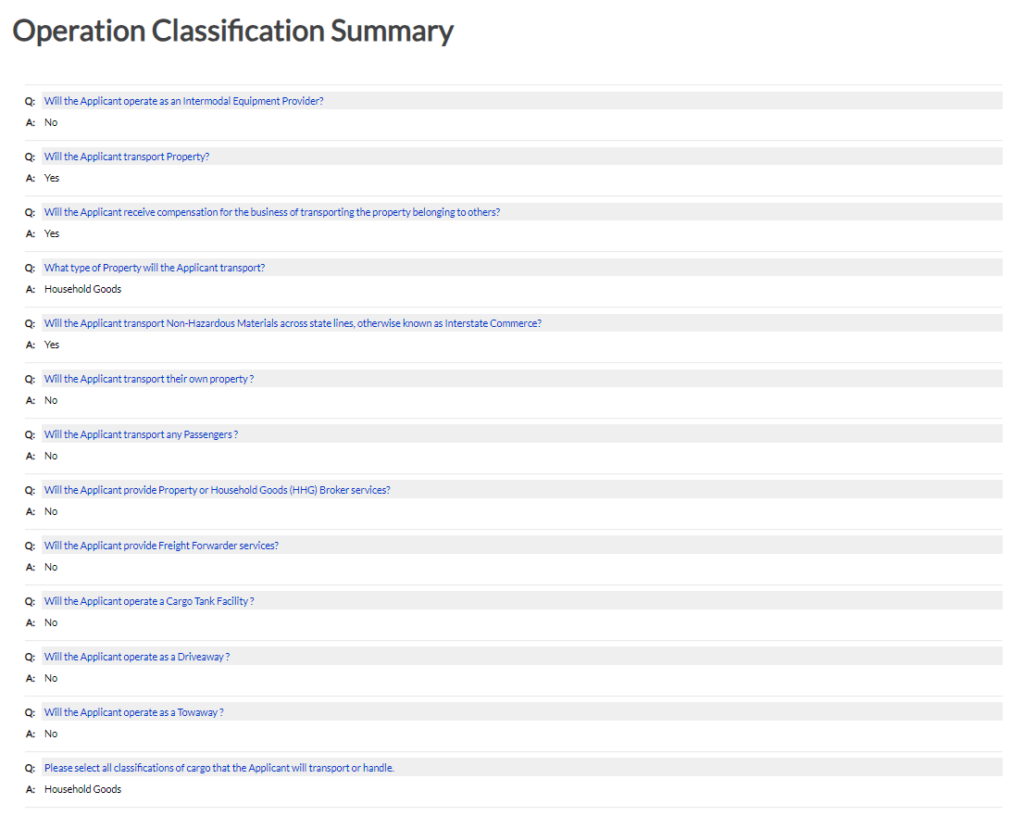 In the following part, the FMCSA requires information about the vehicles you plan to operate.
CMV stands for Commercial Motor Vehicle. There are four main criteria when determining if a vehicle is a CMV. The main criterion is the gross vehicle weight rating (GVWR). If the GVWR is over 10,001 LBS, the vehicle is a commercial vehicle.

Having said that, if you plan to use non-CMV vehicles, type in how many vehicles you will use for your business. If none, type "0".

How many CMVs will you operate?
Let's assume you are just starting, do not own a truck yet, and plan to rent a truck for some time.

In this case, if you are renting a 26-foot straight box truck, you will enter "1" into the Term Leased box in the "Straight Truck(s)" section.

The rest of the fields should be filled out with "0" unless you plan to operate another type of vehicle.
01. Operating in Canada or Mexico
If you do not intend to work in Canada or Mexico, simply enter "0" for the number of vehicles operating in these two states.
02. CMVs operating solely in Interstate Commerce
If you plan to use any vehicles in Interstate Commerce only, then enter the number that applies in the box. If you plan to operate one truck and use it for Intrastate and Interstate, enter "0" in the box.

03. CMVs operating solely in Intrastate Commerce
If you plan to work only within your state with one truck, for example, enter "1" here. If you plan to operate Intrastate and Interstate, enter "0" in the box and proceed to the next step.

Review the summary of your answers regarding the vehicles you will use for your operations, and if you find everything to be correct, proceed to the next section.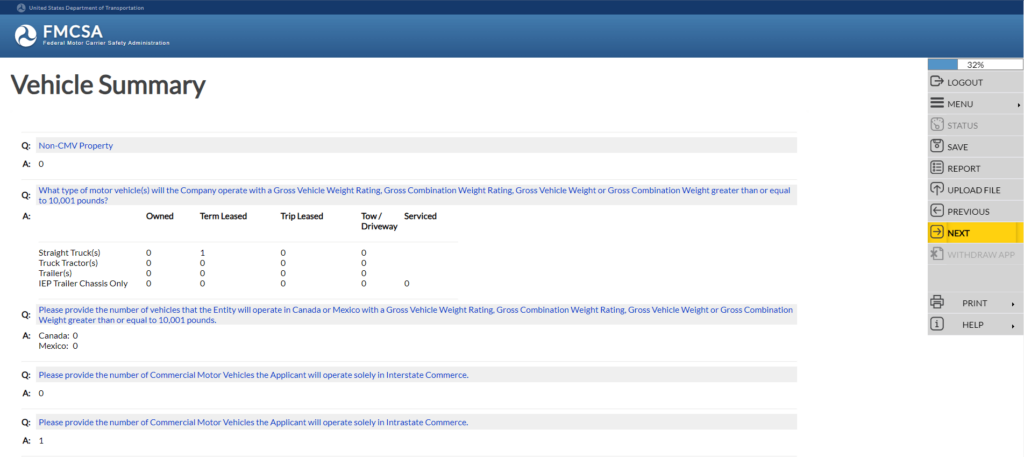 In this part of the application, you will enter the data regarding the type of drivers your company will utilize.

01. Number of drivers who will operate as Interstate
Within a 100-air-mile radius refers to the drivers crossing state lines but not traveling more than the 100-air-mile radius.

Beyond a 100-air-mile radius refers to the drivers crossing the state lines and going further than the 100-air-mile radius.

02. Number of drivers who will operate as Intrastate
The same rules apply here, just like in the previous section; the only difference is that this section refers to Intrastate Commerce. Enter how many drivers will drive within your state, under or over the 100-air-mile radius.

03. Drivers with a Commercial Driver's License (CDL)
Drivers who want to operate a vehicle with a GVWR larger than 26,001 LBS must possess a Commercial Driver's License. You are most likely starting with a truck rated below 26,000 LBS, meaning that your drivers are not required to have a CDL. If this is the case, you can input "0" in the answer field.

04. Drivers operating in Canada or Mexico
This is similar to the Vehicle part of the application; assuming you do not have any trucks crossing to Canada or Mexico, your drivers will not go there either. Enter "0" in both fields and proceed.

If everything is correct, you can proceed to the next step.

In this part of the application, you will be required to provide answers regarding the transportation of Household Goods.

01. Household Goods Statement
You must agree to the statement that you can offer specialized services to transport household goods (HHG) and enter your first, middle, and last name, as well as your title(i.e., Owner). Read the FMCSA disclaimer regarding HHG regulations, and once you are done, proceed to the next section.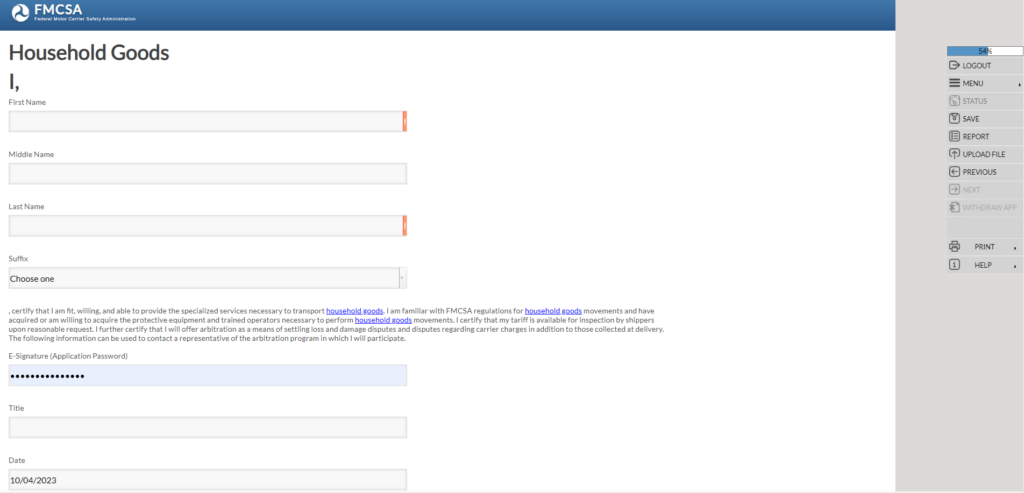 You will be required to enter the contact information for the Arbitration program in which your business participates. Arbitration is required by law for all Interstate HHG motor carriers. Read more about arbitration at the FMCSA website.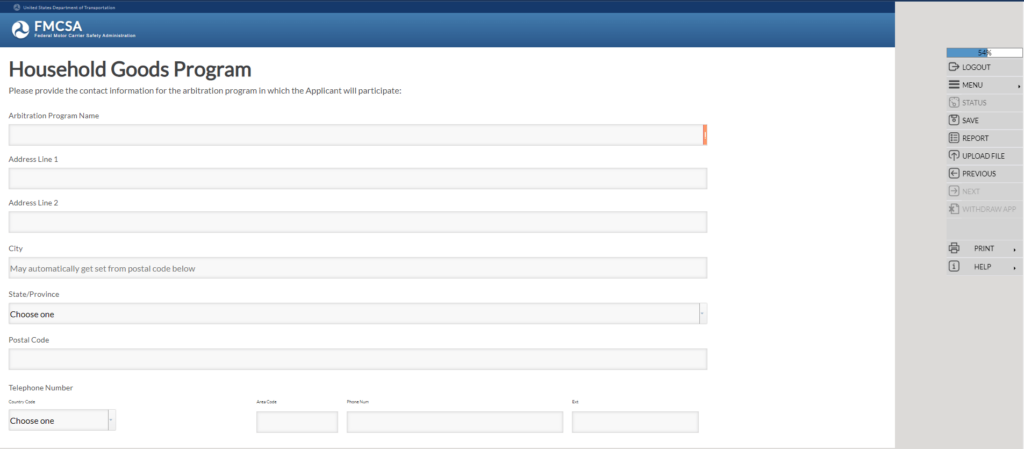 Congratulations, you have completed the application! Press "SUBMIT" and prepare to receive your USDOT number.

We trust that this detailed, step-by-step guide has provided a clearer understanding of the entire procedure, assisting in your preparations to navigate the process seamlessly. If you require further assistance or have additional queries, Memo can support and guide you through this process.
Make sure to share this blog post